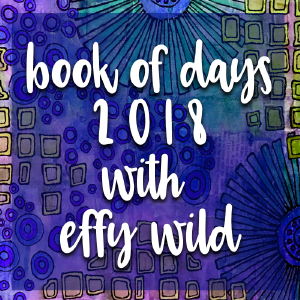 Book Of Days 2018 is a year long 'art journal in community' experience taught by your mistress of the misfits, Effy Wild, in three sessions that run from January 1 – April 1, May 1 – August 1, and September 1 – December 1 throughout 2018.
Each week, (except while we are on hiatus) you will find new content designed to inspire your own art journaling practice, as well as instruct you in mixed media art journaling techniques.
This class will focus on discovering and 'arting' about the ordinary beauty inherent in our every day lives, as well as honing in on mindfulness & creative practices that are designed to increase our level of intimacy with ourselves. Self love, self care, and self inquiry are the focus of this year long journey, and we will explore all three through mixed media art journaling.
Book Of Days 2018 starts on December 31st, 2017, but you will receive instant access to Book Of Days Boot Camp Version 1.0 + Succulent Stacks to get you started and keep you busy while you wait. 
MORE INFORMATION ON THIS CLASS HERE
| Product | Price |
| --- | --- |
| Book Of Days 2018 | $99.00 |