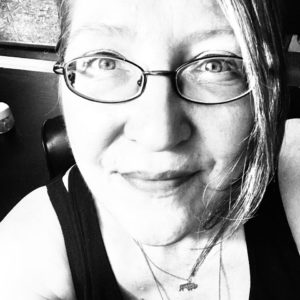 Hello! I'm Effy Wild, and while I serve many roles in the world – writer, artist, teacher, mother, grandmother, lover, friend – my favourite role to serve is that of Art Witch, and the place to find me serving that role is right here in Moonshine.
Moonshine is more than 'just an e-course'. It is a yearly journey into the realm of moon-based art witchery in all its glorious forms.  In this class, we will cycle together from New Moon to New Moon, explore the energies that are present and available for us to engage with as we work with art (in the art journal or any other form that you wish) as a way to raise energy towards the development of our best, most empowered selves, and the attainment our desires. Throughout the year, we will learn to drill down to discover what it means to us to be aligned and attuned, to work with our will, and make changes that will help us to create the lives we were born to live.
We will also have a ton of fun flinging paint because no spiritual path is complete without FUN.
In its third year in this format, Moonshine is now an established eclectic tradition that invites you to discover just how magical creative practice can truly be. While my emphasis throughout the course is the use of mixed media art as my primary form of magical practice, we have art witches who work in the realm of fiber arts, writing, beading, and other modes of creative practice and expression that are easily adapted to the work we do. Creatives of all kinds are welcome to cycle with us from moon to moon as we discover and go after the desires of our deepest hearts.
You do NOT have to identify as an artist OR a witch to participate in this class, but by the end of our year together, I'd be willing to bet you will identify as BOTH.
Moonshine begins on December 31st, 2019, but includes instant access to Book Of Days Boot Camp + a few introductory bonuses which you will find in the classroom. These will keep you busy before we get started in earnest! Once we get started, you find content flowing in your direction throughout each cycle, including a *lot* of writing to get you thinking and explore each cycle deeply, three video lessons (one for the 1st of the month, one for New Moon and one for Full Moon), a live activation gathering each month in our Facebook Group, a new oracle reading designed for the cycle, a new essential oil blend recipe designed for the cycle, and a new colouring page designed for the cycle. Along with the 'usual' content, you will find bonuses popping up regularly (because there are always bonuses), challenges to undertake (with prizes, because prizes are fun!), and I know you will also enjoy participating in our art witch coven, which is open 24/7, and always available to you should you have questions, or just need to talk about what's going on with you from cycle to cycle.
Know you're ready? Wicked! Here you go!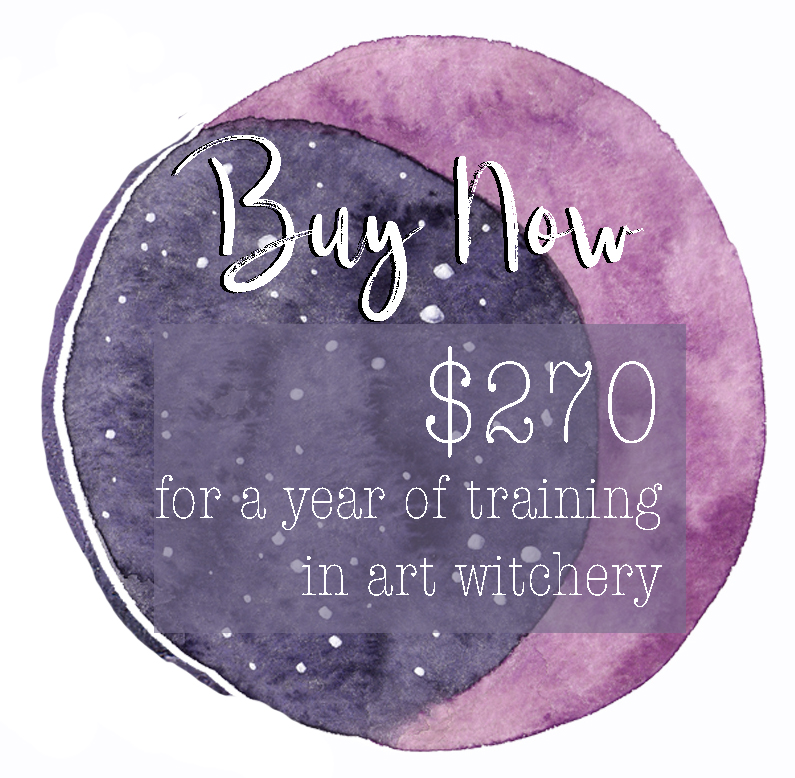 $270 for an entire year of training in art witchery!
If you have a coupon code, please click "Add Promo Code" and type it in the text field before completing your purchase.
Need a payment plan? Please click here.
Can't join in just yet? No worries. You can yield into the cycles with us at any time before the end of August, and we will help you navigate the best way to get the most out of it, whenever you join. Stay subscribed to my newsletter for updates.  

Hold on now, Effy! What's Art Witchery?
Art Witchery is the use of visual arts as a way to change our consciousness in accordance with our will. Art Witches work with colour, shape, symbol, and practice to raise energy, which we direct towards the things we wish to attain for ourselves and the world. Our desires may be as simple as changing our habits (walk more, smoke less), or as complicated as working for justice. Whatever you bring to the table can be 'art witched' through creative practice, and I will teach you how.**
Moonshine is 'non-denominational', which means that there is no one tradition of witchery taught or upheld in this class. You can also come to the class with your own spiritual practices and beliefs and adapt the content to suit you. While we do not use the words 'witchery' and 'witch' lightly in this class, we undertake these practices with mirth and open-mindedness, understanding that magic *works* even if we don't necessarily understand how.
This class is experiential. This means you don't have to come in with 'belief' or 'faith' in the process. You will grow in understanding how this works as you work it, and as you learn, research, and practice, you will be creating your own special brand of art witchery – in short, your own 'tradition', specifically designed by and for *you*.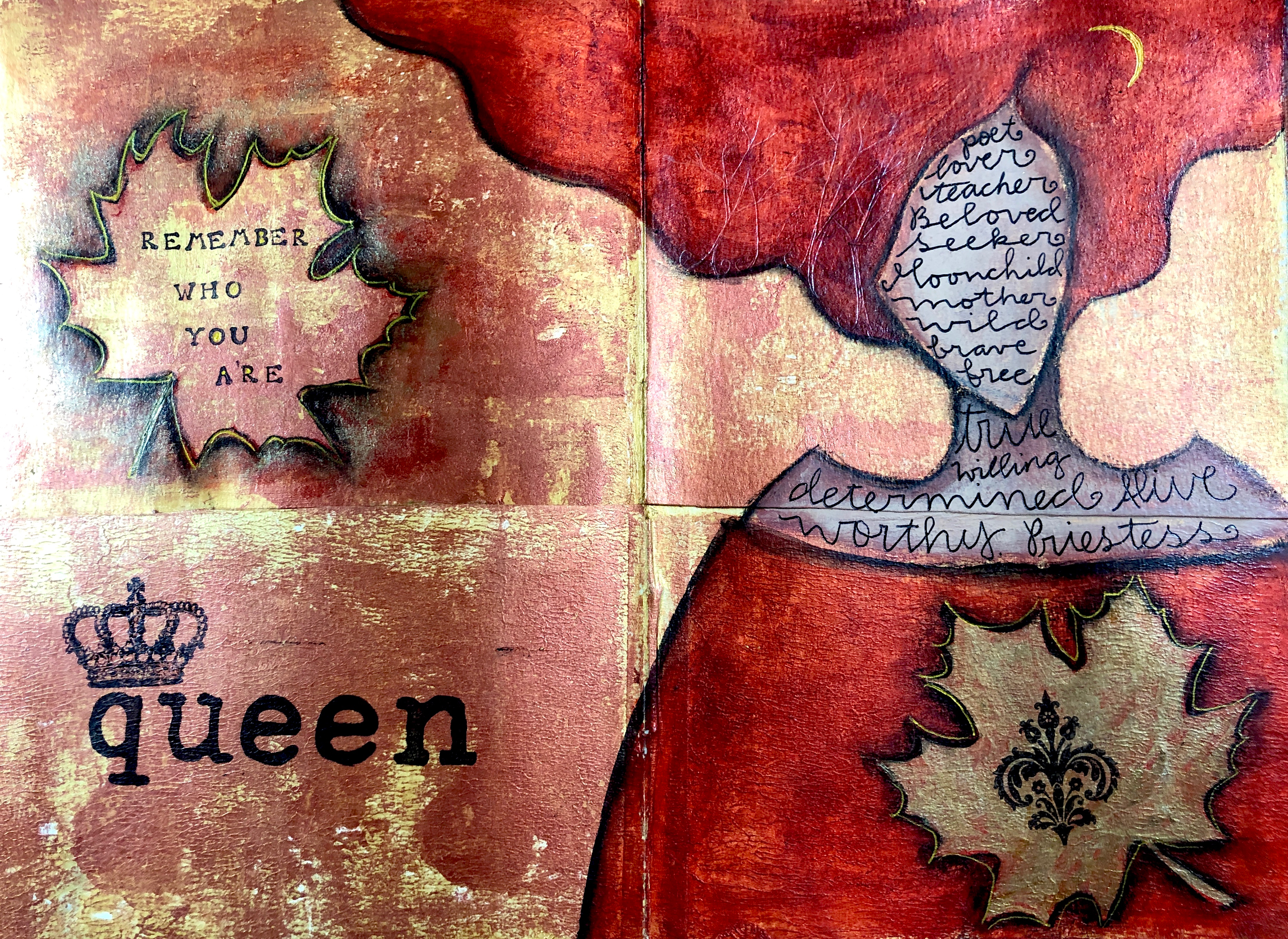 A Little More About What We Do
In Moonshine, we operate from a place of knowing that when we heal ourselves, we heal the world. When we serve our highest good, we serve The Highest Good. When we go after our desires in alignment with our will, we are increasing joy, fulfillment, power, and manifestation for the entire collective. We work in the realm of the microcosm with an understanding that it will impact the macrocosm. Note, though, that this is not a "Law of Attraction" style program. We work deeply and reverently with the powers that be in order to attain a sense of alignment (what we call 'soundness'), and to remove the obstacles within us that prevent the attainment of our desires. While the work we do is done privately, in our own studios (or living rooms or dining rooms), we gather in order to amplify each individual's energies so that the vows we make and the work we do is exponentially more effective.
If you're not into the 'woo woo' or 'working' part of this program, that's fine, too. You can just join in and paint with us, but fair warning: the magicks is contagious. 🙂 You might find yourself art witching things up in no time!
People in this program have had a lot of fun and created a lot of beautiful things in the name of art witchery, but they have also left jobs that were no longer a good fit for them, escaped abusive relationships, dealt with addictive behaviors, dropped habits that no longer served them, met the loves of their lives, discovered their true vocation, unearthed talents that had lain dormant for years, identified core beliefs that stood in the way of their living their best lives, and made connections that serve as 'soul pod' or chosen family.
In other words, witches in Moonshine have discovered that Moonshine works if you work it.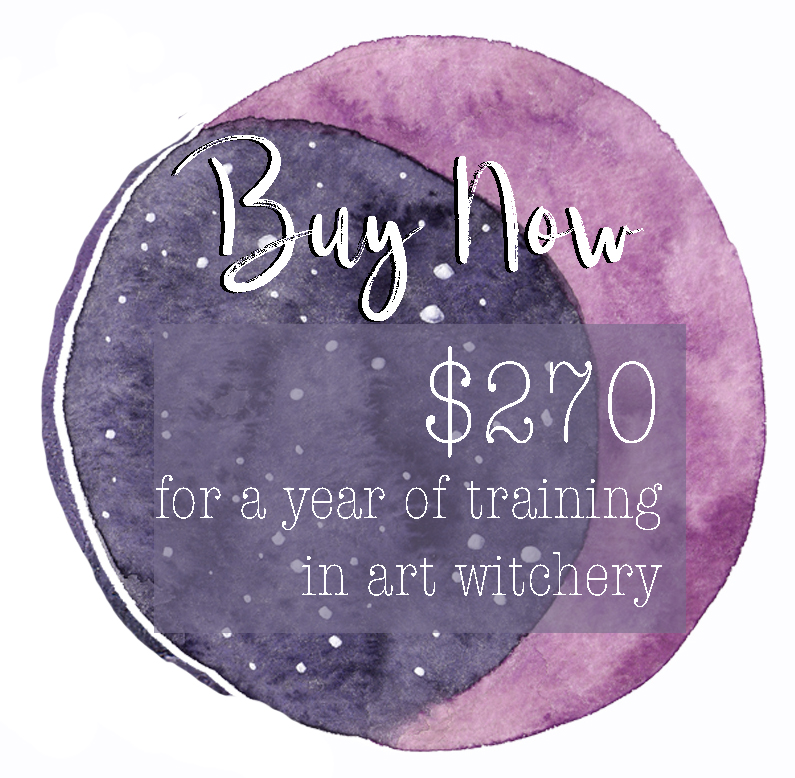 $270 for an entire year of training in art witchery!
If you have a coupon code, please click "Add Promo Code" and type it in the text field before completing your purchase.
Need a payment plan? Please click here.


Here's What You'll Get!
The Manual. Every calendar month throughout the year, you will receive a printable PDF that will contain musings on the theme of the month, suggested activities, bits and pieces of poetry and magic, prompts to inspire your journaling practice, correspondences to use in your practice (such as moon names, holy days, colours, herbs, relevant practices, etc.). These PDFs can be printed, hole punched, and put in a binder as a keepsake of your journey through the year. It can also be used year after year as a jumping-off point into your creative and spiritual practices. NEW THIS YEAR: The monthly packet will also include a new oracle reading designed by an alumni witch, an essential oil blend designed by another alumni witch, and a colouring page design by yet another alumni witch. Collect all the PDFs, and compile your own notes, and you will have a complete "Art Witch Book Of Shadows".
Monthly live virtual gatherings (dates are to be announced) in which we do a read-through of that month's PDF. I will talk you through the energies that are present that month, how I'm working the cycles, and share whatever seems relevant at the time. These are supplemental to the PDFs. Bring a beverage and your notebook. These will take place in our Facebook Group but will be edited for time and cohesion, and made available for replay in your classroom.
The New Moon Working. Time lapsed for your entertainment and inspiration, this will come to you in the form of a quick video that includes instructions on how to create a new moon vow art journal spread, and then a demo of how I made mine. This mini ritual that includes ceremony and art as a way to make magic will be uploaded to your classroom before each new moon throughout the year. These painting sessions will sometimes focus on the astrological sign the new moon is 'in', but sometimes, they will focus on other energies, or be rendered entirely intuitively. The focus for us at the new moon is the attainment of our desires.
The new moon working lessons will include a PDF with musings about the specific energies that are present on that new moon, and personal writing about how I'm using those energies in the attainment of my own desires. In other words, I'm not just your facilitator. I will be cycling right alongside you, and you can use my own personal work as your inspiration. The new moon lessons will also include an invitation to join me on Facebook for a new moon check-in thread, where we will make our vows (more on vows as we cycle) together as a coven of art witches. Those who prefer not to engage on Facebook will be invited to send me their vows via email so that I can witness them, but only if you like! This is completely optional!.

An example of a spell cast through art witchery on New Vine Moon in Libra.

Full Moon Working. One new mixed media art journaling session meant to explore and employ the energies that are present at the full moon, (which will change from moon to moon) as well as any other correspondences that resonate or come up for us. Includes videos, (all downloadable!) and a full-colour PDF walkthrough with supply lists and step-by-step instructions. In these videos, you will find that only the boring bits are time lapsed. The rest will be real-time and include my thoughts as I'm working. These painting sessions will sometimes focus on the astrological sign the moon is in as it waxes full, but sometimes, they will focus on other energies, or be rendered entirely intuitively. The focus for us at full moon is fulfillment, celebration, and release.

An example of a working done on Full Ivy Moon In Taurus
BONUS: You will also find these videos offered as a quick-to-digest time lapsed format for inspiration & entertainment for those times when you find yourself just wanting to commune with the work without investing the time it takes to view the full-length lesson.

An Additional Monthly Theme Based Working
NEW THIS YEAR: In addition to the new moon & full moon workings, this extra project will be a full-length tutorial in creating a spread or painting based on the month's theme. It will come packaged with your monthly documents so you can get right to work as we enter each new month.
We will work with one of the (many) exercises & suggested activities presented in your monthly PDFs, and I will walk you through its creation step by step on video and through a printable colour PDF. In these lessons, we may paint a spread based on the traditional name of the moon, an herb or crystal that is associated with the energies we're working with, a portrait of a part of self (inner child, warrior queen, etc.) that feels resonant or relevant. These monthly paintings could serve beautifully as 'dividers' in your Art Witch Book Of Shadows, so printing them and including them in your binders will be encouraged.
NOTE: These mixed media tutorials will also be presented as standalone offerings via Patreon at the $10 level, along with a bunch of other Patron-Only Perks, so if painting with me once a month is more your speed, join here. 
If you want it all, though, you're in the right place!!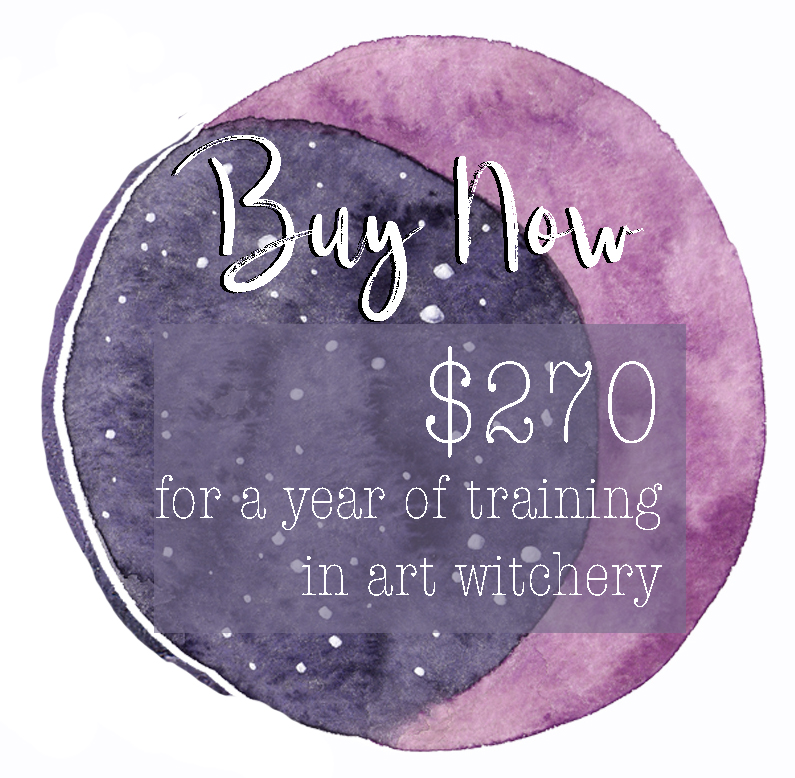 $270 for an entire year of training in art witchery!
If you have a coupon code, please click "Add Promo Code" and type it in the text field before completing your purchase.
Need a payment plan? Please click here.
It sounds like a lot, and it IS, but remember! You get to pick and choose your own personal path!
While this class has a lot to offer in terms of content, you are welcome to decide how little or much of the content you engage. Some of the witches in Moonshine do *no art*, for example, but engage the monthly theme in their own way. Some do the work behind the scenes and rarely visit the Facebook Group. Some are there all day, every day! Some copy the spreads I demonstrate stroke for stroke. Some create entirely intuitively, and it is always a wonder to behold what they've made in response to the monthly cycle. Some come up with their own side projects in response to the cycles. For example, one witch creates a palette every month, gathers her supplies, and shares an image in the group – this is so inspiring! Another creates mandalas, and shares those! Some dip in and out of the program as they are inspired, and some do it all.
It's all perfect!
Because I am holding the space for the work, I cycle month in and month out, and you will find me very present in the Facebook Group, sharing where the work is landing in me in the moment, answering your questions should any arise, helping you grapple with things as they come up, and commenting on your work.

Our Coven is where we gather, commune, make our vows, talk witchery, share our work and whatever else is going on with us. Established in 2018, we had 208 members in the group, and I expect there be a similar number this year. The group is active, lively, supportive, honest, and global which means any time, day or night, there is someone around.
There are those who have suggested that membership in this coven is worth the price of admission all on its own but don't take my word for it. Here are what some of your future coven mates are saying about the group and the class!
TESTIMONIALS

I came to moonshine drawn by the idea of working with the energies of the moon, and what I found was so much more. Not only does Effy provide a textbook worth of both educational and personal material, the coven of like-minded individuals you will find is incredibly special. It is a "place" where intuition reigns and no feeling needs to be justified. A place where your presence, warts and all, will be honoured and seen and held. It is not therapy, but rather a long, hydrating drink for the soul. – April Laramey
Moonshine 2018 morphed from an on-line class of outstanding lessons from a superb teacher to a "field" of non-judgemental, loving and compassionate support for our struggles of all kinds, artistic and personal; great humour, positive suggestions rather than advice, and sharing of interests beyond the actual lessons. The way the group has grown is nothing short of magical—it isn't just a group! it's family! – Jill Ebsworth
I'm not at all witchy but I was completely bewitched by Effy and totally warmed by the safe haven of Moonshine this year. An amazing art and journalling program that's wonderfully outside of the norm. This spiritual agnostic learned a great deal (am still learning!) and was shown some amazing art techniques but most importantly, I found a happy and safe place. This year has been a difficult struggle and though I haven't always finished the art, just seeing the wonderful journal pages, the sharing and friendly camaraderie of the group has been like a healing balm. I'm in next year for sure! – Sal Sheibe
This course has been a real awakening. I didn't quite know which path I wanted to travel on and I can get quite muddled and indecisive about what I am doing and why. Moonshine has given me focus. I have seen things in a different way and found out things about myself and which direction I want to move in that I really didn't realize. It is a wonderfully supportive class with a caring and nurturing community as well as an awesome teacher who is with you at every step. This truly is magical. – Lesley Larcombe
Moonshine is the greatest investment EVER. Not just because of the art, but because it takes you through a soul-trek, one where you find/rediscover your shiny. I have laughed, cried, thrown paint and glitter and loved on the coven so hard this year! You're able to get messy, gritty and real – and for the first time in a long time I have made it through to the other side with a smile on my face – because the magicks does that for you. It's more than just value for money, more than just an art course – it's literally a container full of moonshine. A beautiful, life-affirming, funny, messy, delightful and wild ride. – Rachel Murphy
Moonshine started out as a group of individuals and quickly evolved into more than a family…a coven of wildlings. It was an epic class, where Effy over-delivered because that's the kind of teacher she is. Come as you are to Effy's fire, find out what you are made of and dive deep into the mystery that is life. There is magic afoot and it is within you, too – Amy Carden
When I signed up for Moonshine, I thought it would be a great way into my art journal on each new and full moon. A way to just be more aware of the cycles and make pretty art around cyclical themes. However, it was SO MUCH more! Moonshine is a container for some serious art witchery – cycling with the moon and the themes of each month, making meaningful art, and doing some serious and sometimes even playful soul work. And then there is the coven of witches – a safe and gentle landing place where we can be held, understood and witnessed just as we are, warts and all. I am so glad I took the plunge this year, and I look forward to cycling with the moon again next year! – Shinjini Mehrotra
Moonshine is pure magic on so many levels: journal making, art-making, art journalling, moon cycling, information gathering, and self-discovery. Skim the surface or delve as deep as you like. Effy's knowledge is vast and her support and guidance and the support of other participants is unwavering and all-encompassing. The love and power of the facebook group is palpable and buoyant. Terrific value–I have a book just from Effy's pdfs alone which are full of pointers and prompts. I can't recommend this course enough. – Sue Blott
Moonshine is one of those classes that is more than just videos and PDFs and supply lists – it's an experience. It's magic and community and being present in your life. It's making intentions and throwing paint and feeling gratitude. It's research and association. It's love. It's absolutely love.
That's not to say that there is no room to just take the lessons and make the art – it can absolutely be a filling of the journal with pretty spreads. To do that, though, is to lose SO MUCH of the magic of the class, which is a deep dive into your magical roots, your ancestors, your own associations with the zodiac, the elements, and the way you walk through the world. It's a chance to take your inner wild child by the hand and lead her into the moonlight.
You will absolutely not regret signing up.  – Sarah Trumpp
Moonshine found me-it was an impulse purchase- and through the lessons and the people I've met in Moonshine, I have really started to find myself. To feel like I am meeting myself on the page, in my art, in the process of making art. I have found how powerful journaling is for me, how big an impact it makes and I have learned so much about ways I can combine this with art. I have seen how cycling with the moon connects with me and helps me be connected. There is so much in moonshine, some months I've touched the surface, some months I have dived deep, every month the group of people that make it have been a safe, accepting place to explore and ponder and question and art. This year could have been a really hard one-it's had death, pain, sorrow and could have overwhelmed me but moonshine, journaling and art have been the roots that are helping me grow into the person I've always wanted to be. – Rachel Kentish
This course has brought me from being totally oblivious about why I was doing art to understanding my motivation as an artist and a person. I can't imagine being without it. It has taught me that it is okay if my art is different. It is okay if I am different. I have found myself through this course. – Linda Brumbach

Ready To Get Your Art Witch On?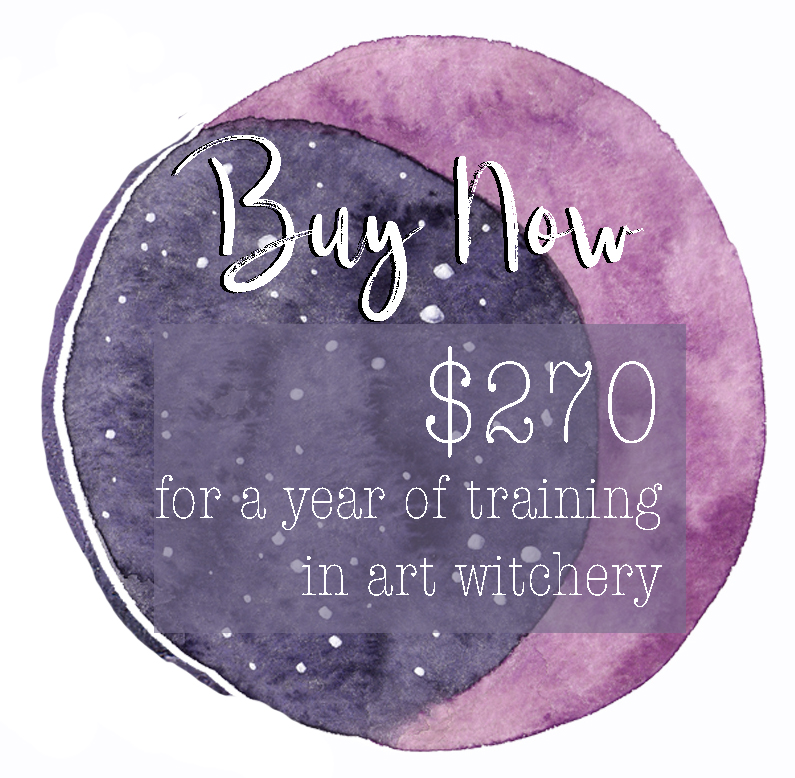 $270 for an entire year of training in art witchery!
If you have a coupon code, please click "Add Promo Code" and type it in the text field before completing your purchase.
Need a payment plan? Please click here.

Got questions? Get answers! Email me at hello@effywild.com
*For those who are seeking a more 'secular' experience that focuses on meeting ourselves as we are on the page, self-care, and regular creative practice, Book Of Days 2020 may be a better choice for you. For those of you looking to create or enhance your own spiritual practice, learn how to use art as a tool for transformation on a spiritual level, commune with the divine through effort as offering, or track the phases of the moon & seasons of the year through art, this is definitely for you.
**Please note: I will not be teaching the misappropriated cultures or practices of indigenous or oppressed peoples in this class. All practices will be sourced ethically, and you will be encouraged to do the same.
DISCLAIMER: Although you may find some of the practices taught herein therapeutic, this class is not a substitute for therapy, or an appropriate container for heavy trauma work.
***Please note that due to the deeply personal nature of the work we undertake in this program, this class is only open to those who identify as female or non-binary. 

NOTE THAT DUE TO THE NATURE OF THE CONTENT I DO NOT OFFER REFUNDS. PLEASE COMMIT AND PURCHASE WITH CARE.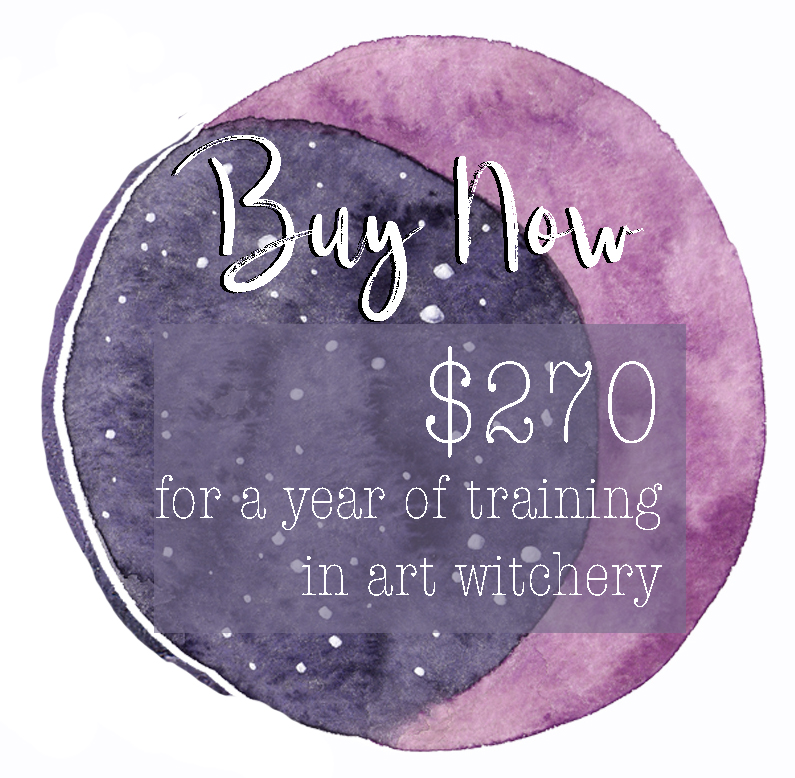 $270 for an entire year of training in art witchery!
If you have a coupon code, please click "Add Promo Code" and type it in the text field before completing your purchase.
Need a payment plan? Please click here.