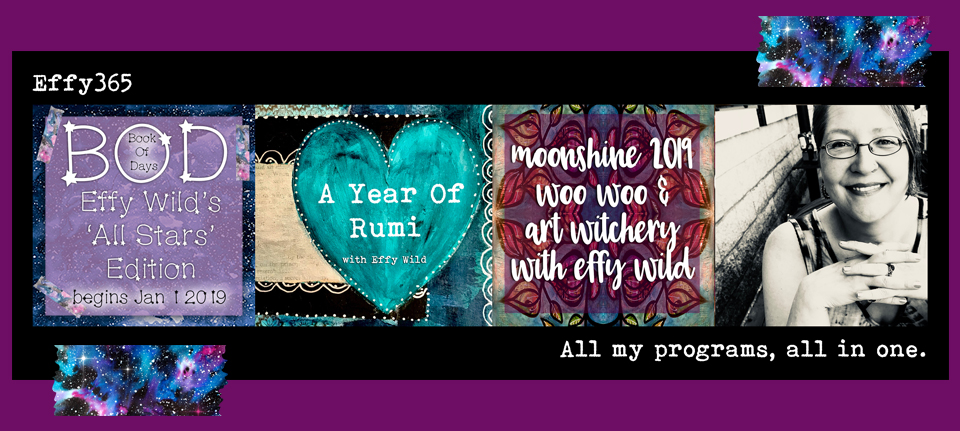 Hello, there! I'm Effy Wild, and if you're here, I suspect you already know me, but just in case you don't, HI HI! Nice to meet you! I'm an on line art journaling teacher and creativity facilitator and I am here to champion your inner artist.
This is the information page for Effy365, which is a bundle of all the programs I'm teaching in 2019 PLUS bonuses.
This bundle reflects a savings of $112, and is my most generous offering in 2019! When you purchase this class, you will get ALL my classes – Book Of Days 2019, Moonshine 2019, and A Year Of Rumi, PLUS bonuses which will be released throughout the year (shhhh – it's a surprise! But I can tell you that some of it was previously recorded, and some of it will be brand new!). This class also comes with membership in an exclusive Facebook Group meant to house our virtual gatherings, for sharing work in a less populated venue, and for more of my eyes on your work.
When you sign up for Effy365, you will be redirected to a registration page for the class. Register there (or just log in if you already have an account with me) and you will find ALL YOUR STUFF magically appearing in your student dashboard.
To find out more about the classes that are included in this bundle, please visit their pages here:
Moonshine 2019 | Book Of Days 2019 | A Year Of Rumi
Ready to dive in? YAY! Here you go!

Clicking here will take you to the cart, where you can complete your purchase. Once you've completed your purchase, you will be immediately redirected to the class registration page. Please complete registration if you are not already a member of this teaching network. If you are already a member, simply log in, and you will find your class listed in your dashboard! Please note that I require your address for GST/HST remittance purposes. Tax is built into the price of the product, and there will be no shipping fees. 

Clicking here will take you to the Payment Plan Information Page where you can find a plan for every offering, including the bundles. Please note that there are no savings reflected with these plans *except for Effy365*. 
Got Questions? Get Answers! E-mail me at effythewild@gmail.com
NOTE THAT DUE TO THE NATURE OF THE CONTENT I DO NOT OFFER REFUNDS. PLEASE COMMIT AND PURCHASE WITH CARE.