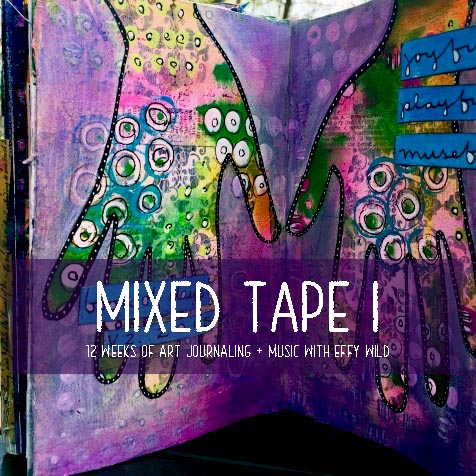 Join Effy Wild for a jaunt in the realm of visual journaling inspired by the soundtrack of your life. While Effy demonstrates mixed media art journaling techniques to her own playlist, you are invited to do the same with various 'ways in' to the journal offered including narrative time lines, choosing themes, or just playing with the music that's most present for you right now.
This session of Book Of Days was filmed in 2015, but remains relevant today!
This class is available as a self-guided experience with teacher support via e-mail or the BODKin Cafe – our dedicated Facebook group for all present and alumni students in Book Of Days.
This class includes full length video lessons and full colour step by step PDFs that you can download and keep forever. You will also get forever access*, so there's never any rush. All students in any Book Of Days class become eligible for alumni discounts on all past and future Book Of Days classes.
Join us today for $99.
Want a bundle? Get Mixed Tape I & Mixed Tape II for $138!
| Product | Price |
| --- | --- |
| Mixed Tape I - {Self-Paced} | $99.00 |