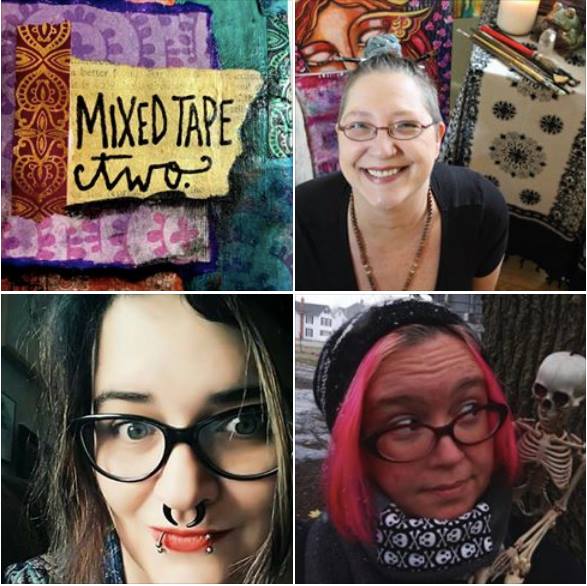 Pretty much every day of my creative practice finds me doing the following:
Plunking down in my squeaky chair at my painty table.
Lighting a candle.
Spritzing myself & the air with something delicious – usually heavy on the patchouli because I'm an unapologetic hippy at heart.
Firing up my Mac or my iPhone.
Clicking on Spotify.
Selecting one of a dozen playlists that I have going at any given moment (or listening to Discover Weekly).
Painting my heart out.
This scene generally also includes the swilling of coffee, the wiggling of hips to the beat, and mumbling the wrong lyrics under my breath or bellowing them out loud so the neighbours can hear.
This collection of small ordinary acts add up to a creative practice that means everything to me, and music is a huge chunk of that.
Mixed Tape II is a celebration of music + visual journaling. In this eight week + on line gathering, my intention is to provide with you a multitude of 'ways in' to the journal through music. As is always the case in my classes, the emphasis here is on meeting ourselves on the page. We are here to engage our own stories, our own inner landscapes. We are here to put colour, line, and symbol to the whisperings of our hearts. In some cases, we will gently coax the things that no longer belong in our bodies out of them and onto the page so we can transform them. In other cases, we will boldly and courageously declare what's true for us. Sometimes, we'll tell secrets in code. Sometimes, we'll shout lyrics off rooftops. In all we do in this class, in whatever way we do it, we will make a pact without ourselves that we are here for *ourselves*.
Guest Artists
This edition of Mixed Tape includes lessons from two of my favourite music loving mixed media artists, Sarah Trumpp, and Cristin Stevenson. They are my 'weird girls of wonder', and I am so honoured to have them here with us in this class.
I will be creating six lessons, and Cristin & Sarah will be creating one lesson each for a total of eight lessons (with the inevitable bonuses).
What You Get
Instant access to "BONUS WEEK" which includes two different journal creation tutorials + access to Book Of Days Boot Camp & Succulent Stacks. This is available immediately upon your entry into the classroom.
Eight additional weeks of lessons – six by Effy, and one each by Cristin & Sarah.
Forever access to the classroom. Once you buy one of my classes, you *own* it. All content is also downloadable for your convenience.
Quality, full length video instruction + PDF walk throughs that include step by step instructions and supplies lists.
Access to Effy, Sarah, & Cristin for feedback & assistance in our private Facebook Group.
Alumni status that includes discounts on future classes taught in this teaching network.
Weekly playlists created by Effy to enhance your Mixed Tape experience.
Weekly vlogs with Effy that cover the lesson content + any musings that may arise as a result of student questions & comments.
A one hour "live" in our Facebook Group at the end of class to celebrate our accomplishments and close out the session.
Invitations to all future live events hosted monthly by Effy Wild.
About Your Instructors
Effy Wild
Effy Wild has been art journaling since 2009, and has been teaching on line since 2010. She has been in every year of Life Book since its inception and will be appearing as a guest contributor in "Create Your Lifebook" by Tamara Laporte. Effy believes in the power of art journaling in developing a deep intimacy with ourselves. She started with zero visual arts experience and has built up her skillset through experimentation and devotion to practice.
You can find her blogging here, and on Facebook here. For more information on her current and archived classes, please visit here.
Effy will be using a diverse playlist to demonstrate multiple ways into visual journaling through music. Each lesson will include a full length video tutorial with a spotlight on a particular technique.
Sarah Trumpp
Sarah Trumpp (also known as Wonderstrumpet) is a muppet trapped in the form of a human who believes strongly in the value of white ink.  Her personal motto is "feed your weird," and she encourages everyone to let their inner weirdo sparkle every minute of every day. She is a mixed-media artist and art journalist who is ridiculously obsessed with music.
Sarah will be working with David Bowie's "Black Star", and walking us through the process of 'storyboarding' a song in our art journal.
Cristin Stevenson
Cristin Stevenson is a mixed media artist and teacher from Saint Joseph, Missouri. As well as creating traditional artwork, she also works for a few creative and design teams including Artistcellar, Donna Downey's Artist Gang, and Canvas Corp Brands Crew. Her artwork has been featured in UK based "Mixed Up Magazine" and the French magazine "Scrap Magazine." Most recently, her "Secret Project" exhibit opened at Glore Psychiatric Museum in St. Joseph, Missouri.
Cristin will be working with Pink Floyd's "Brain Damage" and walking us through the process of using collage to express how a song makes us feel.
Registration opens on July2st with access to BONUS WEEK immediately available upon purchase, and then class will begin in earnest on July 21st 2017 for a duration of 8 weeks. New lessons will be released every Friday by 3 p.m. EST and you will receive notification in both the Facebook Group & via the class e-list that new lessons have been added.
Once class is 'finished', it will remain up on this site indefinitely with access to Effy included via e-mail and an alumni Facebook Group.
Join us today!$79
Need a payment plan? Click here.