Book Of Days is an immersion in art journaling with an emphasis on meeting yourself on the page that is taught in sessions of 52, 12, or 8 weeks, depending on the year the workshop was filmed. Some sessions are themed, and others are 'free for all' but include a virtual mixed media buffet of different ways into the journal.
While some of what we cover in each session is seasonal (for example, in a December lesson, I might address Yule or Christmas), the sessions themselves are evergreen – by which I mean that they remain relevant & valuable long after the workshop's 'live' period is over. All students in Book of Days regardless of the session get access to Effy via email and the BODKin Cafe Facebook Group, as well as free invitations and access to monthly live video classes.
All participates in Book Of Days are encouraged to take Book Of Days Boot Camp, which is available to Effy's newsletter subscribers *for free*. Please sign up here to get access to Boot Camp as well as other VIP resources as they are released.
Below, you will find links to all of the currently available sessions of Book Of Days, including the most current (year long) session, and those that were filmed in years past.
Currently Available
BOD2017 – Full Access Pass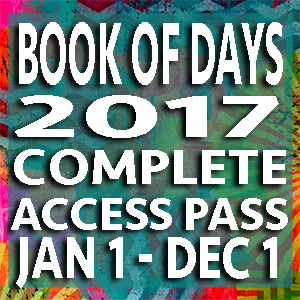 Book Of Days 2017 is a year long 'art in community' experience taught in three sessions that run from January 1 – April 1, May 1 – August 1, and September 1 – December 1 throughout 2017. Each week, you will find new content designed to inspire your own art journaling practice, as well as instruct you in mixed media art journaling techniques.

This class includes:
Book Of Days Boot Camp with Teacher Support.
BOD Boot Camp is an intensive in the art of creating and keeping a Book Of Days. This class includes six chapters, and covers all aspects of mixed media art journaling including various methods of book binding, what to include in your BOD, adding text, creating backgrounds, gaining insight, creating faces, and mixing colours. It is a workshop unto itself, and you will have unlimited, indefinite access so you can take your time working through the content. CLICK HERE TO READ MORE.
Facing Forward I – 8 Weeks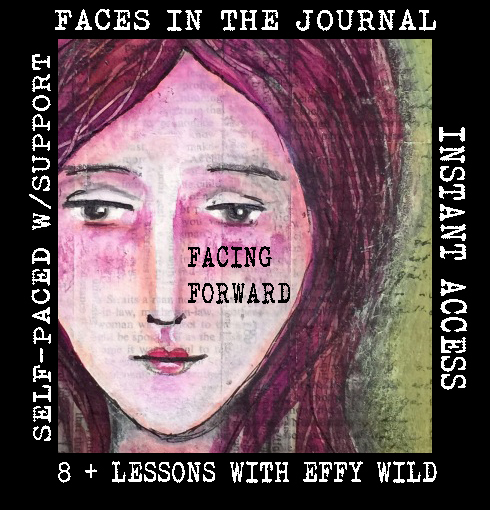 This instant access class is a  self-paced (but teacher supported) immersion in face making in the art journal with Effy Wild.
In this class, we will make a pamphlet style journal, and then over the course of 8 lessons, fill it up with soulful, emotive faces.
You will encounter a diversity of techniques and mediums in this class, ranging from iconic portraiture to paint over collage.
All content is downloadable and yours to keep!
Enjoy unlimited 'forever' access for $49
Please note that the price for this class will be going up at the end of 2017.
Facing Forward II – 8 + Weeks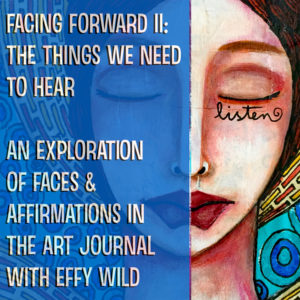 In this class, we will spend eight weeks + together, exploring faces in the art journal. My intention throughout this class is to work with the negative self talk we all experience, and transform those messages into affirmations – the things we need to hear. These explorations will inform the creation of each face.
Each week, we will focus on a different way to create faces in the journal using a diverse range of mediums and techniques ranging from paint over collage to doodling.
There is an extensive "INTRODUCTION" and "BOOT CAMP", both of which are jam packed with enough content to keep you busy for *weeks*, and this content will be accessible to you immediately upon completing registration.
Enjoy unlimited 'forever' access for $49.00
Please note that the price for this class will be going up at the end of 2017.
Ordinary Beauty – 12 + Weeks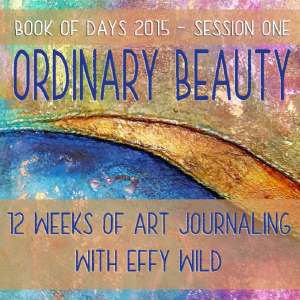 Book Of Days: Ordinary Beauty was originally filmed in 2015 but remains relevant today as a way to connect with & document the ordinary beauty you find in your life. Join Effy Wild for a twelve week immersion in the art bookbinding and mixed media art journaling with an emphasis on taking the 'long look' at what is beautiful within and around you, translating what you find meaningful into beautiful art journal spreads, and taking time out of your busy life to pay attention to what really nourishes you.
Every lesson includes video instruction and full colour PDFs for you to download and keep forever. While this class is now in 'self-guided' mode, teacher feedback and assistance is available in the Facebook group, and via e-mail.
Includes access to Boot Camp & our Facebook Group for past and present Book Of Days participants.
Enjoy unlimited, 'forever' access for $99.
COMING SOON
Self Love Edition, Sovereignty Edition, and Mixed Tape I & II