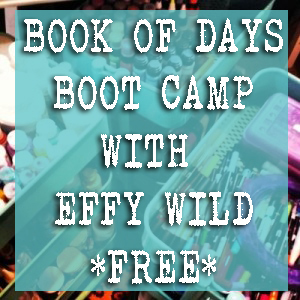 This class was created in my second year of teaching Book Of Days as an intensive in the art of mixed media art journaling and bookbinding. It was created so that instead of having to spend a lot of time in each video explaining basic concepts, each new session of Book Of Days could have a ready-made "art journaling immersion" that folks could dig into either before their session starts, or during the session. The session is organized into six chapters, that include bookbinding tutorials, mixed media techniques and applications, information on how to keep a 'Book Of Days'. There are *many hours* worth of videos in this class, along with downloadable PDFs and other resources.
Students in this class will also be added to my "Beloveds" e-list – a list I use to announce new class registration, free monthly live video classes, and other bonuses. I love my people, and once you are a student here in my teaching network, you are definitely one of my people. 🙂
While you will always be invited to join in new sessions of Book Of Days as they go live, this is completely optional. BOD Boot Camp is my gift to you, with no strings attached.